well start off by saying opening day of duck season was fun we had 10 ducks down in the water but only was able to get 8 in the boat with us was fun morning. there was 4 of us total that hunted. we should have had more but rusty shooting i guess we miss a few. we just shot a mix bag of teal,ringnecks,blubill,wooducks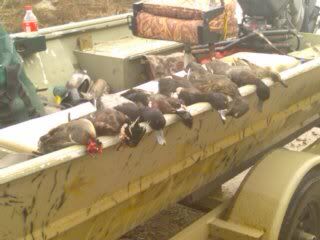 well poker has been going ok. i played 2 5r pca sats to a 109$ tourney and won both of those friday. so i moved my w$ up some more. i played a bunch of million sats sunday and did no good and finished -135$ or so at those. cash games have been up and down and have got in 1,844 hands -395. i played 115 hands of hu vs bigtimin and came out winner there +66. thanks justin....lol. my horse that i staked for 4/180s came out -18$ he had one final table and few cashes. br still around 2.3k so no worries probably gonna try to take a few dollars off again this week.
14,143 vpp to supernova
o and we bought a new christmas tree and already have it up. it is very nice and big. my son lol has been sleeping in the empty box it came in... he luvs that cardboard box. its cute.